-Cork City Hall-



Cork International Choral Festival



| | |
| --- | --- |
| venue: | Cork City Hall |
| | |
| web: | |
| phone: | 021 4270022 |
| booking info: | Cork Opera House |

Ethnic Voices
Cork International Choral Festival
Choral Festival: 27.04. – 01.05.2005
Venue: Cork City Hall
Date: Main concert: 28.04.2005
www.corkchoral.ie
Voice is what makes us individual. Through voice we communicate the weather and spirit of our being. Each nation and community has its own unique voice; sometimes heard as a solo, a unique expression of personality and opinion; and at other times heard as part of a choral community, out of many throats a single way of presenting one's being to the world. In these years of compelling globalisation in the music industry, where singer, choir, soloist and orchestra, all rise and fall to the whim of invisible corporate entities, the ethnic voice endures as a bulwark against aural homogeneity. Living at the edge of Europe, singers and choirs of the Irish song-tradition have been acutely aware of the musical battle between homogeneity and community. Inspired by the continuing strength of our own sung tradition, the Cork International Choral Festival has created 'Ethnic Voices', a magnificent series of choral events from Ireland, Europe and beyond – drawing from the age-old song tradition of Cúil Aodha, Co. Cork, while White Raven of Switzerland work with a profound simplicity of words and music that touch the soul. Members of Eva
Quartet, spawned from the wonderful Les Voixs Bulgares, carve a new international reputation while the Sardinian male ensemble, Tenores di Bitti, combine medieval polyphony with the atmosphere and sounds of North Africa. Finally, from the Republic of Tuva, come Hun Huur Tu whose throat music, originally performed
by shepherds, captures the mood of the slopes and mountains of Mongolia.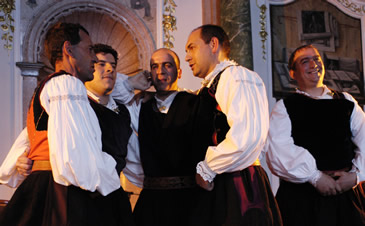 Voice is what makes us individual. Through voice we communicate the weather and spirit of our being. Each nation and community has its own unique voice; sometimes heard as a solo, a unique expression of personality and opinion; and at other times heard as part of a choral community, out of many throats a single way of presenting one's being to the world.
In these years of compelling globalisation in the music industry, where singer, choir, soloist and orchestra, all rise and fall to the whim of invisible corporate entities, the ethnic voice endures as a bulwark against aural homogeneity. Living at the edge of Europe, singers and choirs of the Irish song-tradition have been acutely aware of the musical battle between homogeneity and community.
Inspired by the continuing strength of our own sung tradition, the Cork International Choral Festival has created Ethnic Voices , a magnificent series of choral events from Ireland, Europe and beyond – drawing from the age-old song tradition of Cúil Aodha, Co. Cork, while White Raven of Switzerland work with a profound simplicity of words and music that touch the soul. Members of Eva Quartet, spawned from the wonderful Les Voixs Bulgares, carve a new international reputation while the Sardinian male ensemble, Tenores di Bitti, combine medieval polyphony with the atmosphere and sounds of North Africa. Finally, from the Republic of Tuva, come Hun Huur Tu whose throat music, originally performed by shepherds, captures the mood of the slopes and mountains of Mongolia.