The group was born in Sardinia and takes its name from the well-known anthropologist Michelangelo "Mialinu" Pira from Bitti.
T
he Tenores di Bitti "Mialinu Pira" have a special place amongst the many groups in Sardinia. Having a style which is slightly less rough than that of other quartets, exemplary researchers in their heritage, impeccable executors with exceptional vocal quality, adorable people, they have reached a level of excellence and of admiration which is without equal in Sardinia and in the whole world. Their frequent performances on so many national television programs are to be remembered. In the last few years they've been touring extensively Europe (France, Germany, Denmark, Norway, Czech Republic, Spain, Belgium, Nederland, Austria, Luxembourg, Slovenia, Swiss, Ireland, Croatia, Serbia, Lithuania, Tunisia, Hunghery, United Arab Emirates, Brazil , Japan and Israel). It is also remarkable their participation in 2001 to the Christmas Concert in the Vatican for the Pope Giovanni Paolo II, the concert on May 2009 in the Concertgebouw Theatre in Amsterdam and in December in the Church of the Nativity in Bethlehem. The Tenores di Bitti "Mialinu Pira", having performed for so many years, is nowadays considered from music-fans and etno-musicologists the most prominent example of this vocal art. There are many points that make them so special : the cantu a tenore is still well alive in Sardinia performed by many groups, most of them are old singers performing traditional texts. Their young age is a first approach to notice how their sound, harsh and ancestral, is in fact very homogeneous. Their perfect tuning and their powerful sound is very rare today, because this skill needs years of practice and passion to be performed at its best.
Another matter to be pointed is their accuracy in choosing lyrics. Both in dancing (lestru, dillu, seriu, passu torrau,) and slow (isterrita, boch'e notte) forms, the lyrics , by famous poets or from misknown contemporary authors, make the repertoire of Tenores di Bitti "Mialinu Pira" an important vehicle of literary transmission. These songs are profane poems speaking about the shepherds and their solitude in touch with the nature, referring to the popular world and its traditions. The religious' songs are performed in church, in particular moments of the liturgical year (Christmas, Easter or patronal feasts) or during the religious processions through the street of the village of Bitti. The Grobbes and some lullabies for Baby Jesus (su Nenneddu) belong to this repertoire.
The group works carefully for the preservation of this tradition by keeping courses in the school(on 1999 they have kept a Regional course for Tenores Singers) and trying to merge this traditional singing with other genres of music as classical , on theatres ….
Directly from the heartland of Sardinia, the city of Bitti in the region of Barbagia, known for its polyphonic singing, which many experts find one of the most expressive forms of singing, the highest peak of vocal art - come Tenores di Bitti "Mialinu Pira", which is the nickname and the surname of the famous anthropologist Michelangelo Pira. When one hears the songs for the first time they might seem primitive and hard, like a voyage in the prehistoric age, when people imitated the sounds of nature. However, four man voices one of which chants the main melody and the other three accompany it in rhythmic pronunciation of syllables, together with the guttural emission of the voice which remind us of the primitive vocal music from Oceania and Africa, one achieves an unusual harmony and a pleasant singing.
The Tenores' singing is one of the more ancient ways of singing in the Mediterranean area .Nothing about its origins is sure, but the historians maintain that this traditional polyphony goes back to 3000 years ago.
The singing is made by four male voices (oche, mesu oche, bassu and contra), the main feature of this polyphony is represented by "bassu" and "contra" because of their guttural and ancestral sound. The songs are profane poems speaking about the shepherds and their solitude in touch with the nature, or religious, referring to the popular world and its traditions.
<![if !vml]>

<![endif]>All the members have been learning the traditional singing since they were children.
Below find a list of our main performances in concerts or event form 1996.
Other recent international performances:
2014
<![if !supportLists]> - <![endif]> Tournée in Catalogna e Maiorca: Banyoles, Barcellona e Palma di Maiorca
2013
<![if !supportLists]> - <![endif]> 29 Settembre concerto a Varsavia al Warsaw Cross Culture Festival
<![if !supportLists]> - <![endif]> novembre Tournée in Estonia
<![if !supportLists]> - <![endif]> Irlanda
2012
- 21 Luglio, Concerto con Iva Bittova: Bittova & Bitti . Festival Folkové prázdniny a Náměšti nad Oslavo (Czech Repubblic)
- 13 Agosto Festival LA NOTTE DELLA TARANTA concerto a Soleto con gli Arakne Mediterranea
- 14-15 Settembre Festival del Taravo a Sollacaro in Corsica
2011
<![if !supportLists]> - <![endif]> 16 Giugno, Festival "I luoghi sacri del Suono", chiesa di San Domenico, Modena
<![if !supportLists]> - <![endif]> 17-18 Dicembre, Concerto a Parma presso la chiesa di Santa Cristina e la chiesa di San Giovanni. Circolo dei sardi Grazia Deledda di Parma
2010
<![if !supportLists]> - <![endif]> 11 Marzo, concerto a Palermo per la stagione Antonio il Verso, presso il Rettorato dell'Università
<![if !supportLists]> - <![endif]> 12 Marzo, lezione concerto al Dipartimento "Aglaia" di Etnomusicologia dell'Università di Palermo
<![if !supportLists]> - <![endif]> 23 Aprile, ospiti del Festival "Los sonidos de la biodiversidad" a Castellon de la Plana (Valencia)
<![if !supportLists]> - <![endif]> 18 Settembre, Belgrado (Serbia) al Sava Center, special guest al concerto della cantante serba Bilja Krstic
2009
<![if !supportLists]> - <![endif]> 18 Aprile Concerto a Milazzo (Messina)
<![if !supportLists]> - <![endif]> Tournée in Belgio, Olanda e Lussemburgo (sei concerti) leggi...:
<![if !supportLists]> - <![endif]> 01 Agosto, concerto al Festival Parco di Vulci (vt)
<![if !supportLists]> - <![endif]> 08 Agosto, concerto in Abruzzo nelle zone terremotate per la premiazione della Protezione Civile Sarda
<![if !supportLists]> - <![endif]> 10 Dicembre, concerto a Betlemme nella Basilica della Natività
2008
- 10 Aprile Concerto al Teatro Sangiorgi di Catania stagione concertistica dell'Ame.
- 11 Aprile Concerto al Teatro Annibale di Francia di Messina
- 5 Maggio concerto nella Cattedrale di Vieste
- 24-25 Maggio Festival Polifonico Bylisfonia di Bylis in Albania (Shqiptare)
- 03-06 Luglio Festival Volkskulturfest OBWALD,Svizzera
- 8 settembre Cagliari concerto in occasione della visita in Sardegna di S.S. il Papa Benedetto XVI° Joseph Ratzinger
- Novembre Cocerto a Terranuova Bracciolini (Arezzo)
2007
<![if !supportLists]> - <![endif]> 31 Marzo, Belgrado (Serbia) al Sava Center, special guest al concerto della cantante serba Bilja Krstic
- dal 30 Maggio al 7 Giugno Tournée in Giappone. 1 Giugno Tokyo, 3 Giugno Mishima, 5 Giugno Kyoto
- 8-10 Giugno al XXI Festival corale di Savigliano (Cn). Concerti a Savigliano, Cuneo e Saluzzo
- 14 Luglio concerto al Festival Stiryarte di Graz (Austria)
- 15 Luglio concerto al Festival Petra Matrix di Matera
- Luglio registrazione della colonna sonora del film tedesco Meine schöne Bescherung
2006
<![if !supportLists]> - <![endif]> 6 Gennaio Concerto in Belgio ad Anversa, nella cattedrale di Saint Paul
<![if !supportLists]> - <![endif]> dal 12 al 15 Marzo, 2 concerti in Tunisia a Tunisi al teatro nazionale
<![if !supportLists]> - <![endif]> 1 Aprile concerto a Lille in Francia , nella cattedrale. Collaborazione con Istituto Italiano di Cultura di Lille
<![if !supportLists]> - <![endif]> dal 23 al 27 Luglio, concerto al Festival Bartok di Debrecem in Ungheria
<![if !supportLists]> - <![endif]> dal 20 al 23 Settembre, invito al Festival "Pax et Bonum" a Vilnius in Lituania-
<![if !supportLists]> - <![endif]> 23 Giugno , Salisburgo, Austria ospiti della Società Dante Alighieri
<![if !supportLists]> - <![endif]> 9 settembre al Festival Internazionale di Organo e Strumenti antichi di Orte (vt)
<![if !supportLists]> - <![endif]> dal 15 al 20 Settembre, partecipazione al festival "Musikale '06" di Bilbao nei Paesi Baschi in Spagna
<![if !supportLists]> - <![endif]> 14 Ottobre, Belluno Teatro Comunale al festival Oltre le Vette
2005
<![if !supportLists]> - <![endif]> 6 Gennaio Ospiti della trasmissione AFFARI TUOI di Paolo Bonolis su RAI UNO, abbinata alla Lotteria Italia. La canzone "Milia Vattu sa trotta" è diventato l'Inno Sardo per eccellenza della trasmissione
<![if !vml]>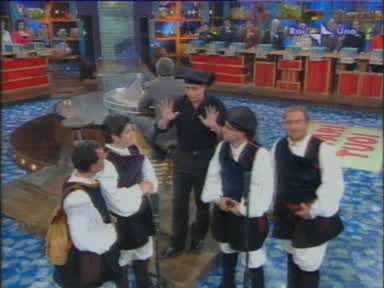 <![endif]>
<![if !supportLists]> - <![endif]> 27-28-29 Aprile concerto a Cork (Irlanda) in occasione dell' International Choral Festival 2005. link
<![if !supportLists]> - <![endif]> 2-3-4 Giugno concerto a Graz (Austria) in occasione dell'esposizione di prodotti sardi con la collaborazione della prosciutteria Dall'Ava di San Daniele
<![if !supportLists]> - <![endif]> 5 Agosto Concerto a Pola (Croazia) al Festival Etnojazz Istrionika
<![if !supportLists]> - <![endif]> dal 22 al 30 Agosto 4 concerti a San Paolo in Brasile e partecipazione assieme a 21 musicisti al progetto Orchestra Mediterranea.
<![if !supportLists]> - <![endif]> Sarmeola di Rubano 22 ottobre concerto a Sarmeola di Rubano (PD) teatro "Opera della Provvidenza"
2004
<![if !supportLists]> - <![endif]> dal 28 Maggio al 2 Giugno ospiti del Festival Musica Sacra International in Germania, che dal 1992 ospita i più importanti esponenti della musica sacra mondiale. I Tenores di Bitti "Mialinu Pira"sono stato chiamati a rappresentare la musica della religione Cristiana Cattolica assieme ad altri musicisti appartenenti alle maggiori religioni monoteiste del mondo: Induismo, Buddismo, Islamismo, Ebraismo. Tournèe nelle più importanti chiese delle città della Baviera. Informazioni sul festival www.modmusik.de
<![if !supportLists]> - <![endif]> 10 Settembre concerto a Lussemburgo in collaborazione con L'Ambasciata Italiana e l'Istituto Italiano di Cultura di Lussemburgo
<![if !supportLists]> - <![endif]> 8 Ottobre concerto n Slovenia a Liubljana al teatro Cankariev Dom, in collaborazione con l'Istituto Italiano di Cultura di Ljubljana
2003
- July 2003 -- Participation in two important international festival in two towns next to Brno, in the Czech Republic, Namest nad Oslavou and Uherskè Hradiste.
- September 2003 - Really interesting collaboration with Hevia, the famous Asturian Bagpipes player who involved the Sardinian group in his concert in Avilès ( Spain ) to open his winter tour.
In the same month the group received good reviews from the important foundation named after the greatest Sardinian folk singer Maria Carta.
In the musical event a careful and expert jury awarded the group and performance for the section "traditions".
- November 2003 -They participate in the Festival Europalia. Italia 2003 in Belgium and Nederland as representatives of the Italian popular music. Four concerts in Mons , Bruxelles, Anversa , Eeklo, Utrecht
2003 28 july concert in Namest nad Oslavou (Moravia), Word Music festival Folkové prázdniny Cech Republic
2003 29 july concert in Uherske Hradiste (Brno), Festival Summer Film School Cech Republic
2003 The 7 September they were invited by the well known spanish player of the Asturian Pipes Hevia, met at the Christmas Concert, to partecipate as special guest in the event 'Dia de Asturias, in the town of Aviles, near Oviedo. The Tenores performed with Hevia, the flamenco guitar player Juan Manuel Canizares and the traditional singer M Luz Cristobal Caunedo.
2003 On 21 Septe3mber the group received the award "Premio Maria Carta" as best performance within the section "Traditions of Sardinia". The foundation "Maria Carta" is set in Siligo ,the town where Maria Carta, one of the best voices in Sardinia, was born. The organization was founded to promote musical traditions of Sardinia. More information can be found in the link www.fondazionemariacarta.it
2003 19 november Concert Utrecht (Olanda) Teatro RASA.
2003 20 november, Anversa DeSingel
2003 21 november, Mons chiesa di San Nicola
2003 22 november, Bruxelles Espace Senghor
2003 23 november, Eeklo Villa N9
This concerts were performed within the Festival Europalia Italia 2003.
This event is organised every second year since 1969 to celebrate and promote the culture of a country which is everytime different. That's why this year, in coincidence with the Italian semester at European Parlament, exibitions, performances and other events in many cities in Belgium were celebrating Italian culture, History and art. Among many guests, the Orchestra Filarmonica La Scala with iuts director Riccardo Muti. The Tenores and Nuova Compagnia di canto popolare were the only Italian delegates for the traditional music.
2002
2002 In december they partecipated in the festival Olavsfestdagene in Trondheim, Norway. In this occasion they performed their own concert in the Nidaros Cathedral, but also togheter with the band "Enzo Favata Quintet" in Our Ladiy's Church.The concert was broadcasted by Norwegian Broadcasting, the national radio.
2002 17 august Tagliacozzo (AQ) Chiostro S.Francesco "festival di mezza estate"
2002 18 august Pontremoli (MS) teatro della rosa
2002 12 december Moncalieri (TO) teatro civico matteoti
2001
2001 Umbertide (PG) "teatro dei riuniti"
2001 from 6 to 16 June they sing in Abu Dhabi (Emirates) at the theatre of the 'Cultural Foundation". The performance was recorded and broadcast by the National TV "Abu Dhabi TV SAT".
2001 in August is the only Italian group to partecipate in the project "world of voices" during the the 'Cultural Olympiad" in Naestved, Danemark. The result of this event was an extraordinary cohoperation of voices and instruments from many parts of the world : Maryam Mursal(Somalia), Maria Leshkova´s Choir il mistero delle voci bulgare (Bulgaria), Irene Becker, Sille Gromberg, Martin Seeberg, Morten Carlsen (Danimarca), Yu Jun (Cina), Dawda Jobateh (Gambia), Ayi Solomon (Ghana);
2001 in December partecipate in the traditional Christmas Concert in the Hall Paolo VI at the Vatican in the presence of the Pope Giovanni Paolo II with many other artists of international fame as Hevia,. , Randy Crawford, Terence Trent d'Arby, Russel Watson, per l'Italia Elisa,. Edoardo Bennato, Massimo Ranieri.The event was broadcasted in Italy by Canale 5 and RTL102.5, it was also in worldvision.
1996
1996 october Monchengladbach Germany in the circolo "Eleonora d'Arborea"
1996 10 december Lecco
1996 11 december Bergamo "blob house"
1996 12 december Clusone (BG)
1996 13 december Longiano (FC) (teatro petrella)
1996 december concert " a Cuncordu" Montreal Canada
1999 from september 'till december of this years the Tenores di Bitti "Mialinu Pira" kept courses in schools to teach people how to sing 'a tenore'.